In our last article in our series on reflection we explored what reflection is. In this article we explore why reflection is important and how to do it.
Biblical Reflection:
"The purpose in a man's heart is like deep water but the one who has insight draws them out." – Proverbs 20:5
So let us reflect on our journey together.
Why reflection is Important:
Critical reflection is one of the five principles of the Early Years learning Framework –'ongoing learning and reflective practice'. The EYLF (DEEWR, 2009:13) says "Reflective practice is a form of ongoing learning that involves engaging with questions of philosophy, ethics and practice. Its intention is to gather information and gain insights that support, inform and enrich decision-making about children's learning." The EYLF Educator's guide (DEEWR, 2010) states that reflective practice assists educators to become more thoughtful about their work and look at new possibilities in practice.
When educators pursue understanding of theoretical perspectives that undergird their practice they are engaging in the type of ''lively culture of professional inquiry" that the guide to the National Quality Standard (p.119) states is fundamental to actualise the outcomes of the NQS. This provides the foundation for understanding what is done and why. Analysing events, experiences and practices informs future planning and decision making (COAG, 2009). Everybody's praxis should be subject to analysis and reflection (Corbin, Morse, Stern, Charmaz and Clarke, 2009).
How to do it:
It is undoubtedly a challenge to find time to be critically reflective but it must be embedded in our daily practice for us to achieve the best outcomes.
Often there is a difference between what we say and what is reflected through our actions. So it is important that each of us continually reflect on our practices through thinking and talking with others. This helps ensure that our professional practice mirrors our beliefs and reflects new learning. Revisiting and reflecting enables deeper understanding and when we share multiple perspectives through professional dialogue capabilities for change are generated.
Critical reflection embedded in daily practice teamed with professional engagement with contemporary research provides stimulus to be a professional researcher-in-practice, applying high level professional knowledge to strengthen understanding, nourish action and enhance practice. This helps generate a learning environment enabling all to flourish.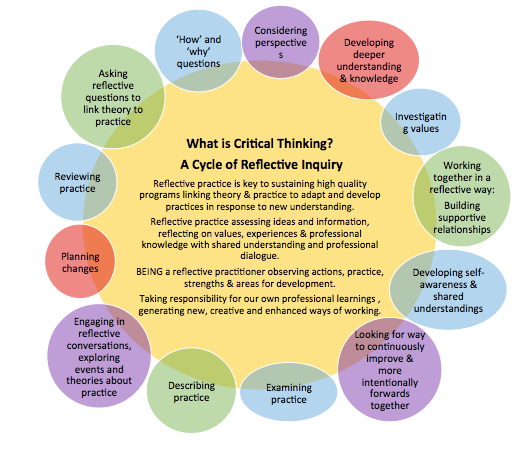 References:
Council of Australian Governments. (2009). Regulation impact statement for early childhood education and care quality reforms. Barton, Australian Capital Territory DEEWR.
Council of Australian Governments. (December 2009). National quality standard for early childhood education and care and school age care. Early Childhood Steering Committee. Barton, Australian Capital Territory DEEWR.
Council of Australian Governments. (2009). Investing in the early years – A national early childhood development strategy. http://www.deewr.gov.au/Earlychildhood/Policy-Agenda/Pages/EarlyChildhoodDevelopmentStrategy.aspx.
Department of Education, Employment and Workplace Relations (DEEWR). (2009). Belonging, being and becoming: The early years learning framework for Australia. Canberra: Australian Government DEEWR for the Council of Australian Governments.
Morse, J.M., Stern, P. N., Corbin, J., Bowers, B., Charmaz, K., & Clarke, A.E. (Eds.). (2009). Developing grounded theory: The second generation. Walnut Creek: CA: Left Coast Press.